SuperPro Polyurethane
Suspension Bushes


for Street, Motorsport and Offroad
made from high quality Polyurethane
-> No noise
-> No vibration and harshness
-> More responsive steering
with 30 years warranty*

Assignment...
...made easy

Adjustable Anti Roll Bars

in several diameters
hollow or full metal
made of high quality chrome-
moly steel

Greasable Shackles
for 4x4 applications with leaf springs

Supaloy Aluminium Control Arms

1. extreme lightweight control arm

Lighter and less unsprung weight*

44% lighter than OE cast arm*

Corrosion resistant Supaloy Aluminium

= better handling and more direct steering

2. better handling and longer lifetime

superior design of PU bushes

Stainless steel tubes

SuperPro Double Helix to keep the grease inside of the bush

= direct steering, maximum service life, no noise

3. Excellent quality and finish

Specialized stainless steel tube

High-strength bonding of the bush to metal housing

= better turn in feeling and direct steering

4. Performance Grip Dynamics Technology

up to 1,5° more positive caster for more grip in corners

SuperTrac "Anti Lift" Geometry for better traction

= less understeer, faster apex speed
SuperPro Polyurethane Suspension Parts and Bushes
Why Polyurethane Bushings?
Rubber has traditionally been used for automotive suspension bushes. It has the advantages of low cost, is easy to work with, it can be used a wide variety of applications and is able to provide a level of insulation between steel components. However, it has some significant disadvantages:
Rubber is vulnerable to abrasion
Rubber will deteriorate when exposed to ultra violet light and water
Rubber will deteriorate when exposed to chemicals such as oil, petrol, salt, antifreeze, and other solvents and airborne contaminants.
Over a period of time, when compressed, rubber will acquire a 'Set' in the position it has moved to.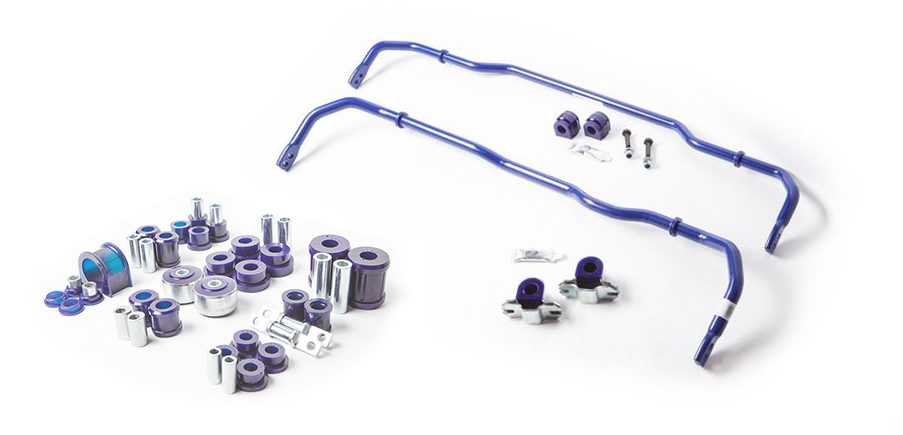 The consequence is that the bush will quickly cease to function as it was originally intended – even if the car is not used. The driver will experience reductions in quality of handling, steering responsiveness & ride quality, plus a reduction in the life expectancy of tyres & suspension components.
By comparison, Polyurethane as a bushing material is not vulnerable to abrasion, does not deteriorate when exposed to air, light or chemicals and retains a perfect memory of its original shape. Fitting polyurethane bushes will therefore ensure that the suspension components retain their designed geometry giving better handling & steering response, longer component & tyre life and an improved ride quality over worn rubber bushes.
It will also last significantly longer than the equivalent rubber component.
The significant disadvantage of traditional polyurethane bushes, where the original rubber bush is replicated using standard industrial grade material, is an increase in the transmission of Noise, Vibration & Harshness through the vehicle suspension – when compared with NEW rubber. Successfully addressing this issue through the use of unique materials & innovative design has been Superpro's mission.
Features & Benefits of SuperPro polyurethane bushings
Using SuperPro not only maintains steering geometry but also enhances the handling and ride characteristics of any vehicle.
SuperPro's unique polyurethane, which is blended with extra mechanical properties, allows the 'new car feel' to remain for the life of the vehicle.
SuperPro polyurethane bushings remain constant in their durometer or hardness, even under the most adverse conditions such as 4WD or off road racing. Rubber bushings on the other hand increase in durometer when compressed, lowering their ability to function correctly. SuperPro polyurethane bushings do not alter in their hardness once they have been cast. The resilience of SuperPro and its ability to return to its natural shape after compression allows the control of Noise, Vibration and Harshness (NVH) in a vehicle.
SuperPro products use precision machined aluminium castings which allow for precise fitment. The stringent tolerances used in SuperPro translates to better road holding, increased tyre life, more responsive steering, and longer service life of suspension components.
Many Front Wheel Drive vehicles do not have provision for wheel alignment correction, and as the vehicle's suspension softens with age the vehicle begins to wander or steer off in one direction. Fitting replacement SuperPro polyurethane bushings will help reduce the premature aging of a vehicle's suspension components by removing the excess compliance in the suspension system and reducing the NVH.
The advantage of using polyurethane over rubber in the creation of suspension components has impressed certain engineers and designers so much so that it has become a preferred material for many new and creative concepts involving suspension technology. Polyurethane is used by Original Equipment Manufacturers to rectify inherent design flaws in many applications, particularly in high performance vehicles, without changing the actual design of the suspension.
What is SuperPro?
Super Pro is a polyurethane elastomer base material, and is a class of "Thermosetting" synthetic Cross-Chain polymer that involves the reaction of various types of isocyanate resin with curing agents, to give an extremely durable material with the best features of rubber and plastic.
Super Pro is unique, it is the only polyurethane product range fully backed by a professional research and development program based on many years of hands on experience in the suspension industry.
Why SuperPro?
Since the introduction of polyurethane into the aftermarket suspension industry in the early 80's many have tried but few have succeeded in manufacturing accurate, durable parts consistently. Anyone can take two jam tins and mix part A with part B, pour it into a mould and get a result. It takes proper management and high technology to achieve the right result every time.
Portfolio
Our range covers modern, classic and 4x4 vehicles. We can supply individual bushes as well as complete car sets where appropriate.
Alfa Romeo, Armstrong Siddeley, Asia, Audi, Austin, Austin Healey, BMW, Chevrolet, Chrysler, Daewoo, Daihatsu, Daimler, Delorean, Dodge, Eunos, Ferrari, Fiat, Ford, GMH, Hillman, Honda, Humber, Hyundai, Isuzu, Jaguar, Jeep, Jensen, Lancia, Lexus, Leyland, London (Hackney) Cab, Lotus, Mahindra, Macros, Mazerati, Mazda, Mercedes, MG, Mini, Mitsubishi, Morris, Nissan, Opel, Peugeot, Plymouth, Pontiac, Porsche, Proton, Reliant, Renault, Rover, Rover-Land Rover, Saab, Singer, Ssangyong, Subaru, Sunbeam, Suzuki, Tata, Taxi, Toyota, Toyota commercial, Triumph, TVR, Vauxhall, Volkswagen, Volvo.
Extent of delivery
All SuperPro Polyurethane Suspension Bushes are supplied as kits including:
Polyurethane Bushes
Mild Steel Sleeves
Washers
Grease
Instructions as required
If there are any questions please feel free to contact us.