Legal Notice
Attention! Please ship your returns to:
SuperPro Deutschland
Dechsendorfer Platz 6
91056 Erlangen
Germany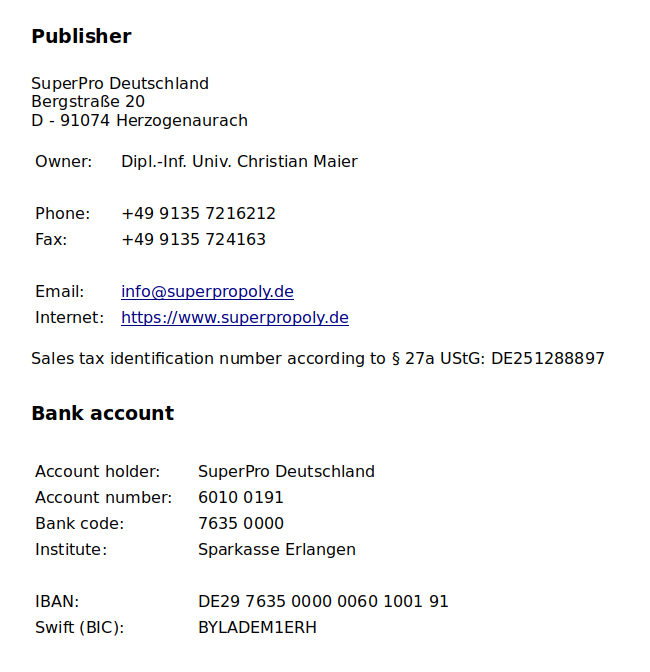 Copyright
Copyright © 2008 All rights reserved. All texts, pictures, graphics are subject to copyright and laws for the protection of intellectual property. The product illustrations and trade marks, as well as product designations are subject to the copyright of the respective manufacturer.

Disclaimer
The website operator does not guarantee that the information provided on this website is complete, correct and up-to-date in every case. This also applies to all external links that refer directly or indirectly from this website. Level alpha is not responsible for the content of a page that is reached via a link. Level alpha reserves the right to make changes or additions to the information provided without prior notice.
Any liability for the use of the contents of the website or the correctness of the contents or the accessibility of the website is excluded. Level alpha is therefore not liable for concrete, direct or indirect damages or damages that may arise due to lack of use, loss of data or lost profits in connection with the use of documents or information accessible on this website.
Facebook-Plugins
Our website uses so called Social Plugins ("Plugins) of the social network facebook.com, which is operated by Facebook Inc., 1601 S. California Ave, Palo Alto, CA 94304, USA ("Facebook").
The plugins are identifiable by one of the Facebook logos (white "f" on a blue background or a "thump-up" sign) or are identified by the phrase "Facebook Social Plugin". The list and the look of Facebook Social Plugins can be found here: developers.facebook.com/plugins.

Purpose and detail of the data assessment and the further use and analysis of the Data through Facebook and your thus related personal rights and control functions to protect your private data can be found in the data disclaimer of Facebook: www.facebook.com/policy.php.

If you are a member of Facebook and do not want Facebook to collect your data via our website and stores it in relationship to your Facebook member account, you will need to log out of Facebook prior to the visit of our website and you may also have to delete any related cookies stored locally by Facebook.

Furthermore it is possible to block the data generation of Facebook Plug-ins by using browser add-ons such as "Facebook Blocker"
Google Analytics
This website uses Google Analytics, a web analytics service provided by Google, Inc. ("Google"). Google Analytics uses "cookies", which are text files placed on your computer, to help the website analyze how users use the site. The information generated by the cookie about your use of the website (including your IP address truncated by the last octet prior to its storage using the "_anonymizeIp()" method) will be transmitted to and stored by Google on servers in the United States . Google will use this information for the purpose of evaluating your use of the website, compiling reports on website activity for website operators and providing other services relating to website activity and internet usage. Google may also transfer this information to third parties where required to do so by law, or where such third parties process the information on Google's behalf. Google will not associate your IP address with any other data held by Google. You may refuse the use of cookies by selecting the appropriate settings on your browser, however please note that if you do this you may not be able to use the full functionality of this website. By using this website, you consent to the processing of data about you by Google in the manner and for the purposes set out above. You can opt-out from being tracked by Google Analytics with effect for the future by downloading and installing Google Analytics Opt-out Browser Addon for your current web browser: http://tools.google.com/dlpage/gaoptout?hl=en.
Dispute Resolution
The European Commission provides a platform for Online Dispute Resolution (OS Platform) at http://ec.europa.eu/consumers/odr/
We are neither obliged nor willing to participate in a dispute resolution procedure before a consumer arbitration board.