Design Features
SuperPro, a high quality product
The world's foremost range of replacement Suspension Bushes, SuperPro is continuing to expand as a result of their intensive Research & Development program.
SuperPro is unique. It is the only Polyurethane Suspension Product Range fully backed by a professional Research & Development program based on many years of hands-on experience in the Automotive Aftermarket Suspension Industry, fed by constant input from SuperPro's network of specialists and distributors.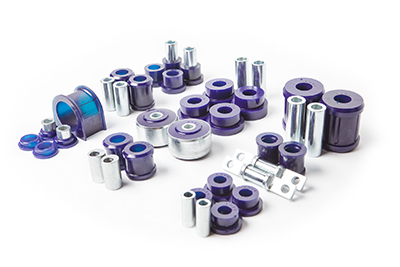 It also ensures SuperPro is able to provide the most up-to-date and thorough technical advice to its customers.
Anyone can take two jam jars and mix part A with part B, pour it into a mould and get a result - but it takes proper management and high technology to achieve the right result every time.
Many have tried but few have succeeded in manufacturing accurate, durable parts consistently. SuperPro has been doing it for 20 years.
As replacements for original equipment parts, SuperPro bushes offer the advantages of more superior cornering, stability, steering and braking, reduced NVH, greater durability, easy fitment and cost efficiency - with every item backed up by SuperPro's exclusive Research & Development and customer technical support.
Constant interface with customers has led directly to SuperPro's pioneering development of the exclusive offset bush, which simply and inexpensively corrects alignment problems in many front-wheel-drive cars and 4 Wheel-Drive Car.
We don't just sell polyurethane bushings and leave our customers to figure out how to fit them correctly, we provide complete solutions to suspension and steering problems.
SuperPro draw on many sources, including feedback from customers in the U.K., Europe, Australia and many other countries.
SuperPro employ several full-time Research & Development engineers who are always apace or ahead of new vehicle releases, so we have the answers ready when our motor trade customers come looking for help.
Products are constantly tested and re-engineered on their own vehicle fleet, customers' vehicles in the U.K., Europe and around the world, as well as a conducting a continuous program of cyclic testing on specifically-designed test equipment.
We offer a very significant advantage for automotive service providers in being able to provide prompt and reliable technical assistance via our direct links to the parts manufacturer.
SuperPro Polyurethane Suspension Bushes are no "run of the mill" product; they are especially formulated for the task at hand that being the best possible compromise of performance against cost in the arduous conditions found in automotive applications.
SuperPro Design Innovations
20 years after they were first produced, SuperPro Polyurethane Suspension Bushes remain ahead of the rest in design innovation.
SuperPro now offers 3000 individual parts to suit almost every model of car and light commercial on the market. This range includes both modern and classic vehicles.
Every item is the product of SuperPro's 25 years experience as a suspension and steering specialist and specifically, of its continuing in-house Research and Development Program.
SuperPro's record of introducing new design features is highly impressive and unmatched by competitors. It demonstrates that SuperPro customers benefit from constant product development.
| | | | |
| --- | --- | --- | --- |
| 1986 | Bullet grooves | Allows for variances in control arms or spring eyes. | |
| 1990 | Double-helix grooves | Used inside the bush and outside surface of the crush tube. Especially suitable for greaseable shackles. | |
| 1992 | Self-lubrication | Extends bush durability, excludes contaminants, assists polyurethane flow into grooves. | |
| | Voiding | Allows polyurethane to be displaced into grooves under load, reducing NVH. | |
| 1993 | Knurling | Reduced surface area ensures unrestricted pivoting of control arms. | |
| 1994 | Caster offset bushes | Provide caster correction in non-adjustable suspensions. | |
| 1998 | Tangential grease grooves | Grooves store grease, reducing friction between shackle bush heads and shackle and reducing noise. | |
SuperPro - A Technological Innovation
Polyurethane Material
The specially blended Polyurethane used in SuperPro products has specific mechanical properties that make it extremely successful in its applications. The combined properties of extreme resistance to abrasion, low compression set, high tear strength, and a resistance to oils and solvents makes SuperPro ideal for most automotive applications. These properties lead to a resilient product that is highly versatile in its various applications.
Steelwork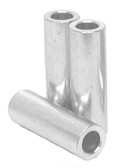 The crush tubing is an integral component of the suspension bushing system and is necessary for free pivoting. The crush tubes are made to precision tolerances to ensure precise fits are maintained. All SuperPro tubes are made of Steel and are Zinc plated for corrosion protection and appearance. In some applications SuperPro incorporates end knurls and hardened tubes to provide positive location. Where required, SuperPro products provide precision machined steel shells to allow the installer to quickly and easily replace worn components.
The Double Helix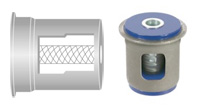 The double helix design feature has led to marked improvements in SuperPro products. The double helix is used in two applications - firstly on the inside of the bush, and secondly on the outside diameter of the crush tube.
The first design of the double helix is used primarily on shackle bushes to provide a region for grease to travel along. This allows a boundary layer of grease to form between the inside diameter of the bush and the outside diameter of the tube. The double helix is extremely successful in greaseable shackles as the grease can travel from the center of the bush along the helix and out to the grease grooves in the head of the bush.
Knurling

Knurling is used to enable unrestricted pivoting of the polyurethane bush around the crush tube or any other mating steel surfaces. The knurling has inherent design advantages - reducing the surface area of polyurethane in contact with the crush tube, which results in less frictional force being developed. The design of the SuperPro knurl bore combined with the integral grease retention lips, keeps the lubricating grease intact for the life of the bushing, and eliminates the necessity for periodic re-greasing.
Bullet Grooves and Voiding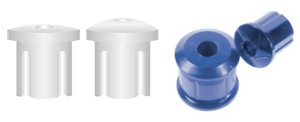 Bullet grooves are incorporated in the design of SuperPro bushes to allow for variances in control arm or spring eyes. The voiding and bullet grooves also allow for the transgression of displaced polyurethane into the volume of the grooves as the loads of normal vehicle operation are applied. Even though polyurethane is in a solid form when it is manufactured into bushes, its unique properties enable it flow in a manner similar to a liquid when loaded. The action of the bush flowing into its voids prevents the generation of noise, vibration and harshness within the bush and its mount.
Tangential Grease Grooves in Head

The tangential grease grooves in the heads of shackle bushes reduce the friction between the head of the bush and the shackle plates. The grooves store grease, which is smeared around the mating surfaces when the spring shackles rotate, forming a lubrication boundary layer. This has the effect of minimising head friction and reducing noise.
Research and Development
The Research and Development process for SuperPro products constantly gathers information and feedback to provide continuous product improvements.
SuperPro constantly re-engineers and tests SuperPro products on their own fleet of passenger vehicles and Four Wheel Drives.
Cyclic testing is performed using specifically designed testing equipment, to offer valuable information on the life and durability of SuperPro products.
Australia's diversely unique conditions provide the perfect testing ground for SuperPro products. Encompassing everything from extreme heat, dust, and harsh roads to race circuits, rally tracks, speedways and drag strips, SuperPro products are extensively tested in a variety of conditions to ensure the highest quality performance and reliability.
SuperPro products are also further tested in the diverse climates of Africa, Asia, Australasia, Europe, Middle East, South Pacific, UK and USA.